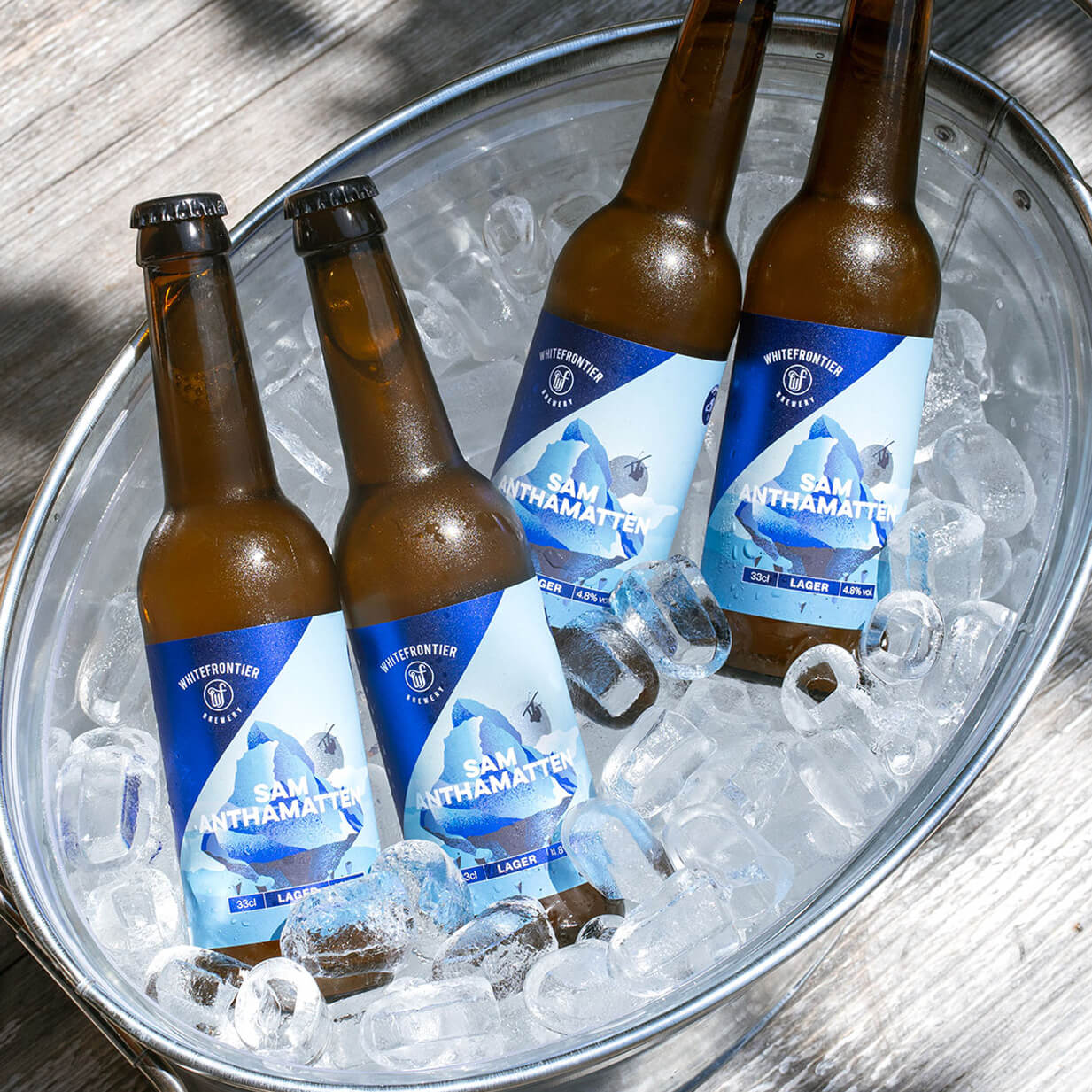 Sam Anthamatten
Sam Anthamatten est un skieur professionnel et guide de haute montagne zermattois. Il fait partie depuis 2018 de nos crafters, ces gens inspirants qui dépassent leur limites au quotidien pour atteindre leurs objectifs. À notre échelle, nous l'aidons à réaliser ses rêves et pour lui rendre hommage, nous lui avons brassé une bière. Une partie des bénéfices des ventes de cette bière sont réinjectés dans les projets fou de Sam.
Sam souhaitait une bière rafraichissante et légère, une bière parfaite pour l'après-ski à Zermatt. Ensemble, nous avons élaboré une recette de Lager dorée et bien équilibrée. Juste ce qu'il faut de malt pour s'y enfoncer les dents et seulement ce qu'il faut d'amertume pour avoir envie d'une deuxième gorgée. Très appréciée par nos clients, la Sam est devenue un classique de l'après-ski à Zermatt.
Tu sais ce qu'on dit dans le monde de la craft ? LAGER IS THE NEW IPA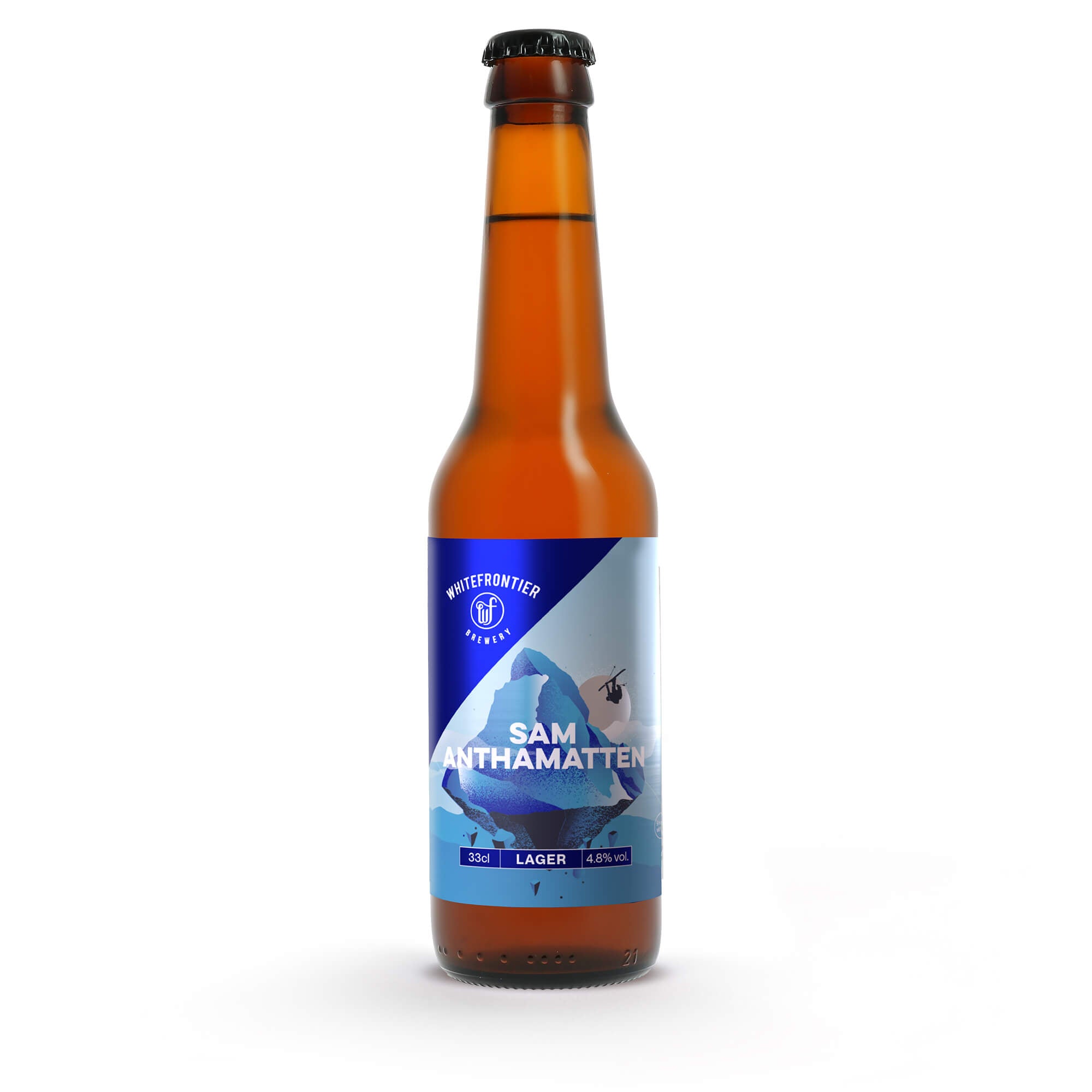 Sam Anthamatten
CHF 3.60 par canettes de 330ml
Regular price
Sale price

CHF 43.20
Craft your life.

SAM

ANTHAMATTEN
You know what they say in the craft world? LAGER IS THE NEW IPA

Yes, even if lagers aren't always well received by beergeeks for reasons of aroma, it's still a difficult style to make because of its low fermentation. It's a style where precision is essential to find the perfect balance between malt and hops, to create a gourmet and above all refreshing beer.

But as they always say (do they?!), one good lager is better than 24 bad ones. (Okay, if you say so!)

In short, our Sam is a well-balanced lager with a good malt taste that will refresh your aperitifs after a good downhill cycling or skiing session.

How to store your SAM?
Always in a cool place (minimum 15°, but preferably around 8°).
Drink it chilled and in good company.

Perfect to accompany your good times.
And don't forget: CRAFT YOUR LIFE




Ingrédients
Malt (barley), Hops (Hallertau, Mittelfruh, Saaz), Yeast (Lager), Water
Facet/Nose
Blonde, translucent. Cereals & noble hops
In the mouth
Beautiful balance between a clean, crisp malt base (bread) and classic noble hops.
Taste
Acidity
---
Hoppyness
---
Potency
---
Fruit
---
Range
Pro serie - Long-term collab
Pairing
Après-ski in Zermatt
AFTER-SALES
SUPPORT
After-sales support
WhiteFrontier is a small team. We try to answer your emails as quickly as possible, but to save time, we have grouped most of your questions together with answers. If you still have questions, don't hesitate to contact us at shop@whitefrontier.ch
When will I receive my order?

WhiteFrontier deliveries leave on Mondays, Wednesdays and Fridays. Once they've left, they take 1-3 days to arrive at your doorstep.
Do you deliver everywhere in Switzerland?

Yes, absolutely—even in the depths of Graubünden, if you can believe it!
Do you deliver outside Switzerland?

Unfortunately not. We've decided to stay local for now, but never say never…
Delivery fees:

- Orders less than CHF 90: CHF 12

- All orders CHF 90 or more: free

- Gift voucher delivery: CHF 5
You should have received a tracking number when we sent your order. You can use the tracking number to track your package and imagine yourself sitting on the sofa enjoying one of our beers. And that's going to be pretty great.
Unfortunately, we do not accept returns. Unless it's because of an error we've made, of course. We're not animals.
How should I store my beers?

The best thing to do is always keep your beers cold. A cellar can do the trick, but storing beers above 15 degrees is not advisable. And don't leave your beers outside in the winter because it might get too cold, and that's no good, either. Somewhere between 5-15° is ideal.
How can I be sure my beers won't arrive broken?

Yes, bottles are of course fragile. This is why we advise you to buy cans instead (see our article on cans vs bottles). That said, if you want to buy bottles, no worries, but there is a very small additional risk of breakage. If you receive a package with one or more broken beers, take a picture of the box and send it to us with your order number and as much detail as possible at shop@whitefrontier.ch.
I haven't received part of my order.

There shouldn't be anything to worry about. For heavy parcels—and this is the case for beer—La Poste sometimes splits orders into two. This means you might receive your order in two lots. However, if the rest of your order doesn't arrive, be sure to send us an email at shop@whitefrontier.ch with your order number.
My beer is past its expiry date. What should I do?

When you package beer, you have to include an expiry date. As well as being mandatory, this date allows us to inform our consumers of the time limit for drinking any given recipe. Hopped beers lose their aromas more quickly than a beer with a high concentration of malt, for example.

That said, you risk absolutely nothing by drinking a beer that's out of date.
DICTIONARY OF
BEER