We're open 7/7
The taproom
We're always delighted to welcome you to our brewery and have you taste our recipes!
Opening times
Monday to Thursday: 3pm-10pm
Friday and Saturday: 11am-11pm
Sunday: 11am-8pm
Exceptional closings :
Monday, December 18, 2023
From December 24, 2023 to January 2, 2024 included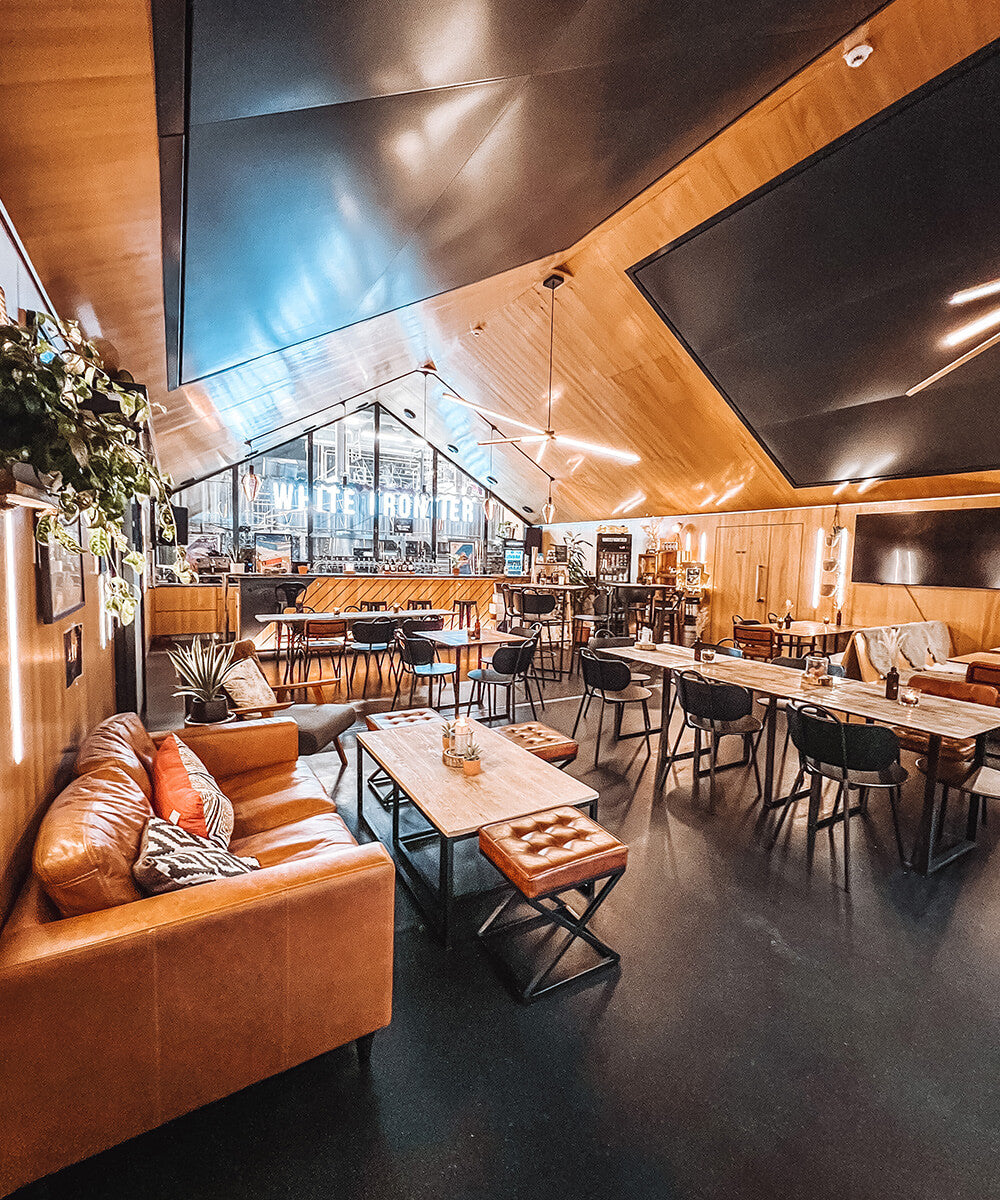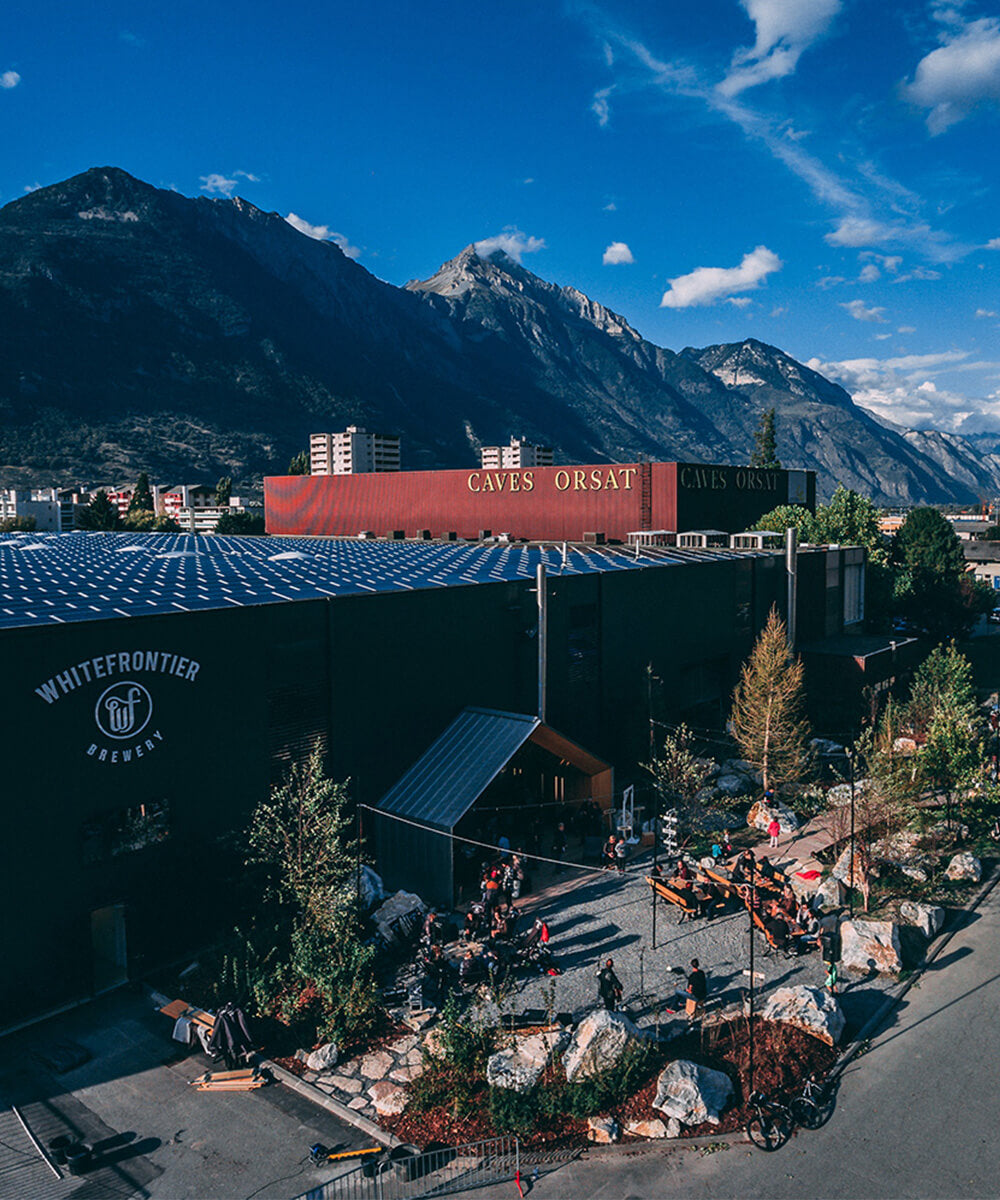 OUR BEER GARDEN
Our beer garden is nestled in nature, in the heart of the mountains. We have a large garden where you can taste our beers when the weather permits. Otherwise, there's always our comfy, cosy bar inside. There's music, a good energy, and it's laid back, like us!
Our team will always rack their brains to come up with relaxed yet memorable experiences for you. Know that we take your visit to heart, and each time we hope that you have a true experience, in the literal sense of the term, where you feel something, that something is stirring inside you. Whether it's the atmosphere, the taste of the beer (brewed just a few metres away!), the music or the people... We always work so that there's a memorable je ne sais quoi about your visit.
OUR TAPROOM
Inside, a mountain chalet atmosphere is guaranteed, thanks to our industrial style mixed with warm wood finishes. We've taken care to add a decorative touch, using as many second-hand and recycled pieces as possible. At a glance, you can see that it's all about beer: there are 20 taps at the bar (that's how many recipes we have for you to taste!) and behind the large window, you can see the brewery and sometimes even the brewers working there.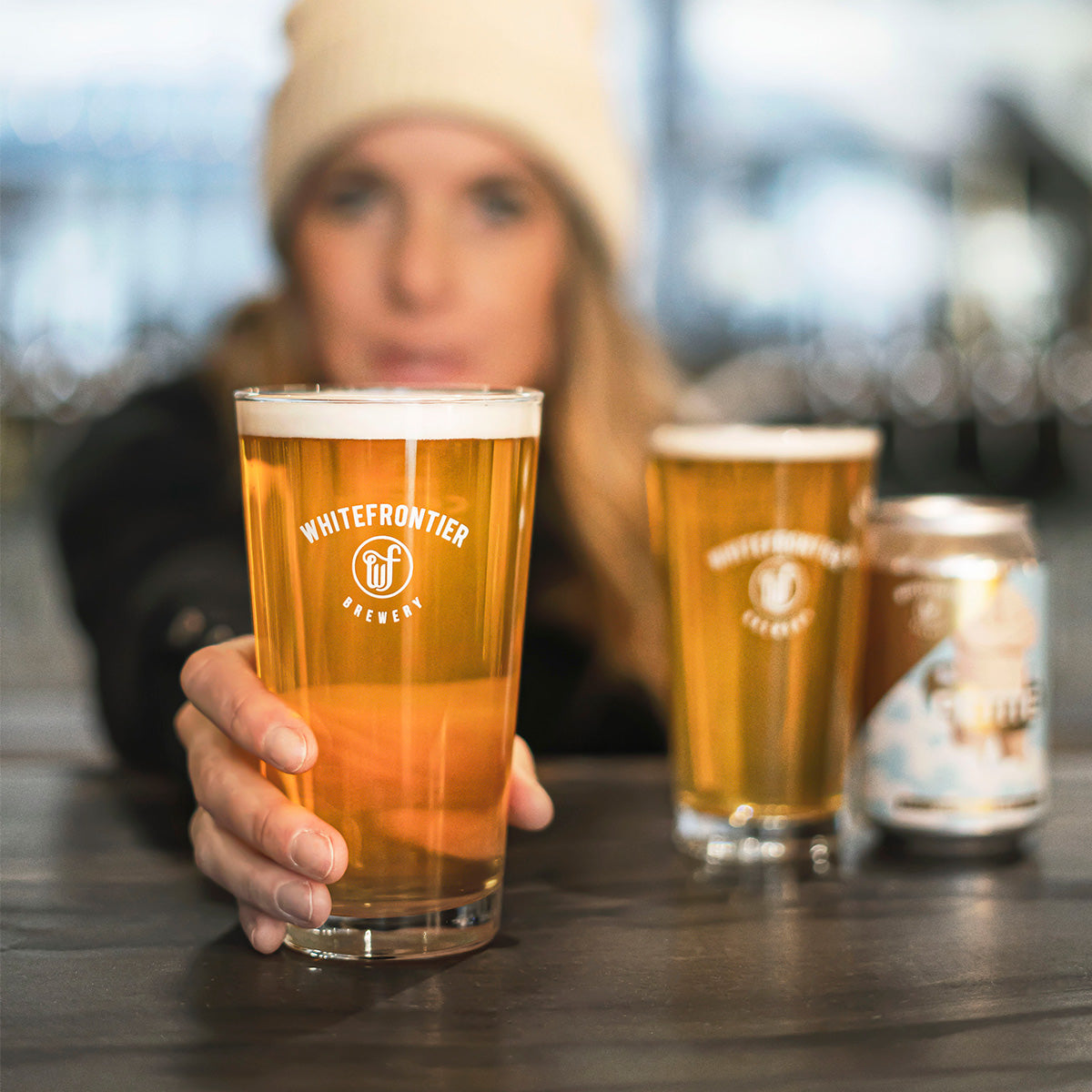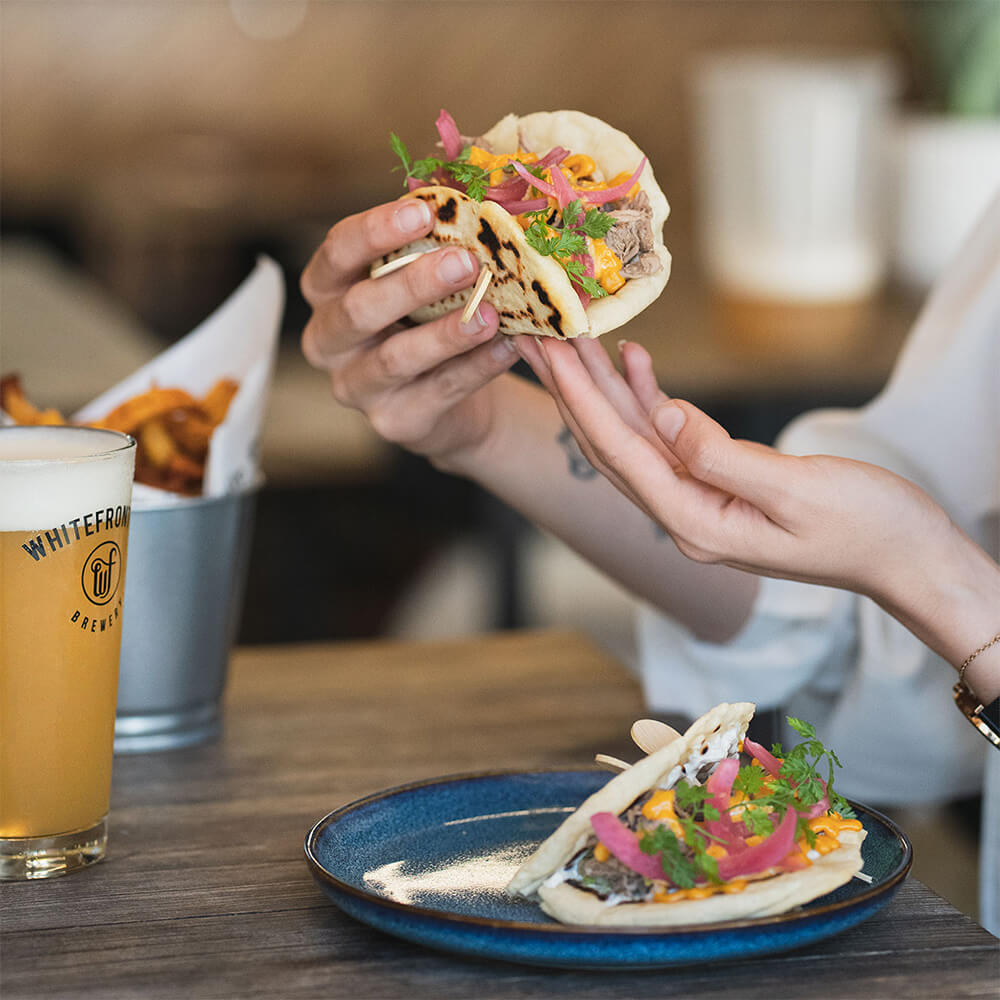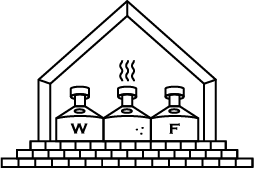 VISITS
If you're anything like us, when you find something you like, you want to tell anyone who'll listen. Beer is our passion, and we're always happy to share it with curious lovers of life who want to know more.
So you don't really know how to make beer and feel like stepping behind the scenes? No problemo, we'll show you around.
We organise fun visits and tastings for groups of 10-20 people. If there are more of you, contact us by email or phone and we'll arrange for a second guide to join.

VISIT OUR BREWERY
GROUP BOOKINGS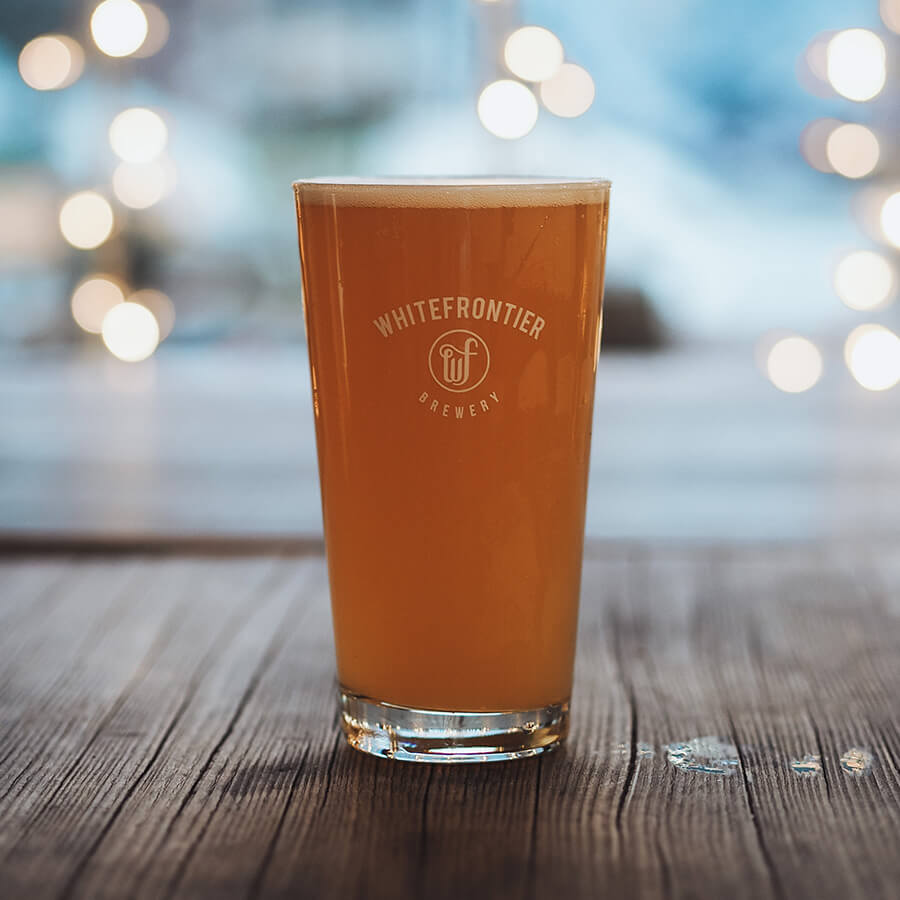 Your visit:
Welcome drink
Oh boy, this visit is off to a good start with a delicious welcome beer among colleagues, friends or family. It usually promises to be a lovely moment—allowing for the small detail that we don't choose our family :).
Allow about 30 minutes for large groups, and a little less for smaller groups.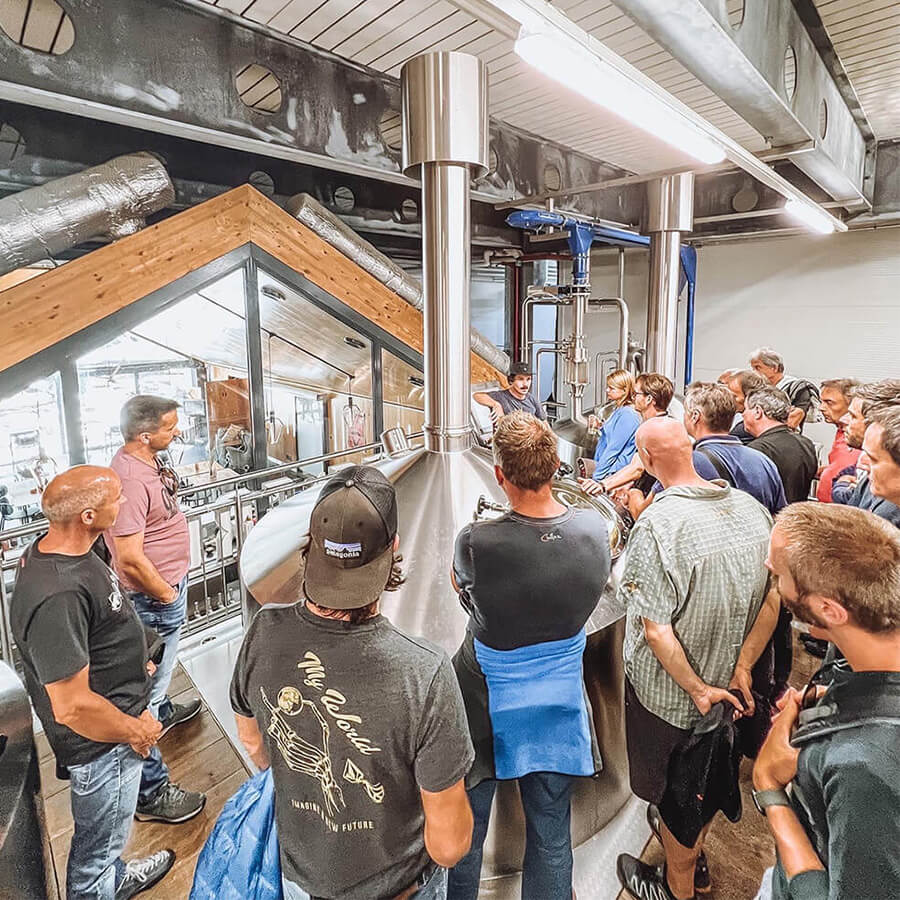 Your visit:
Guided tour
Alright, let's go—time for a tour of our brewery. By the end, there'll be no more secrets about the brewing process and the ingredients we use. So who's going to spill all at the next drinks, huh? You, probably!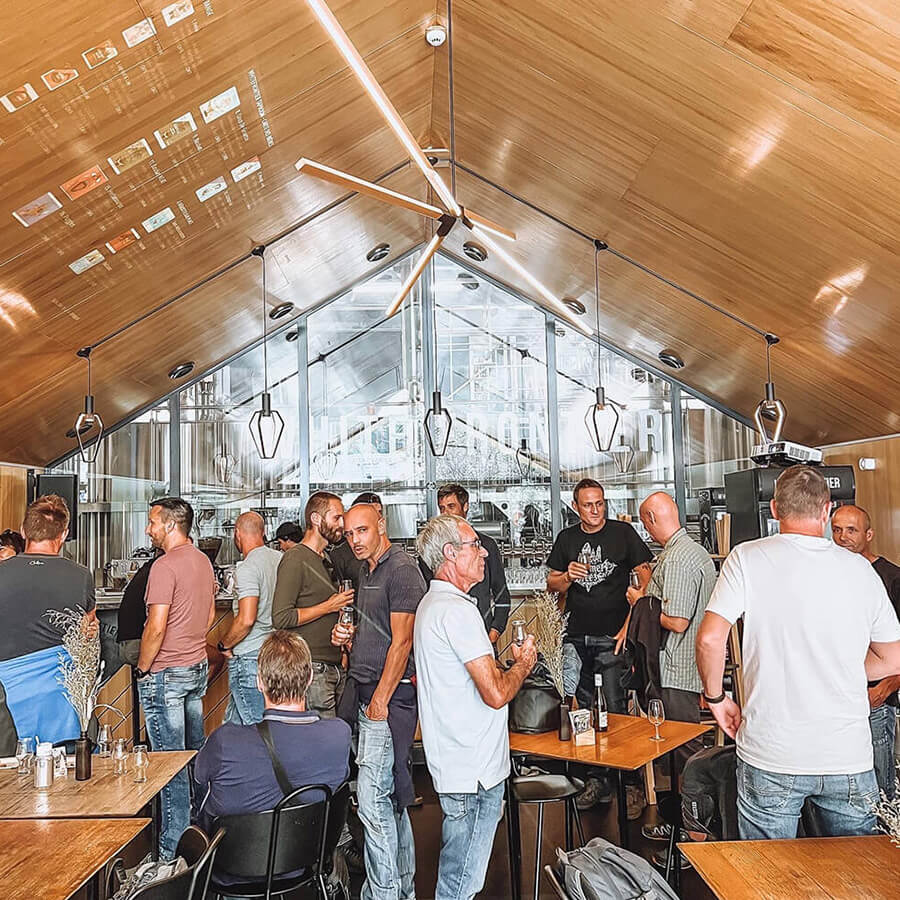 Your visit:
Beer tasting
It's getting a bit "all talk, no drink", isn't it? When's it time to taste those famous WhiteFrontier beers? Don't panic, we haven't forgotten. Your visit includes a tasting of 4 different small beers, each as delicious as they are surprising. Prost!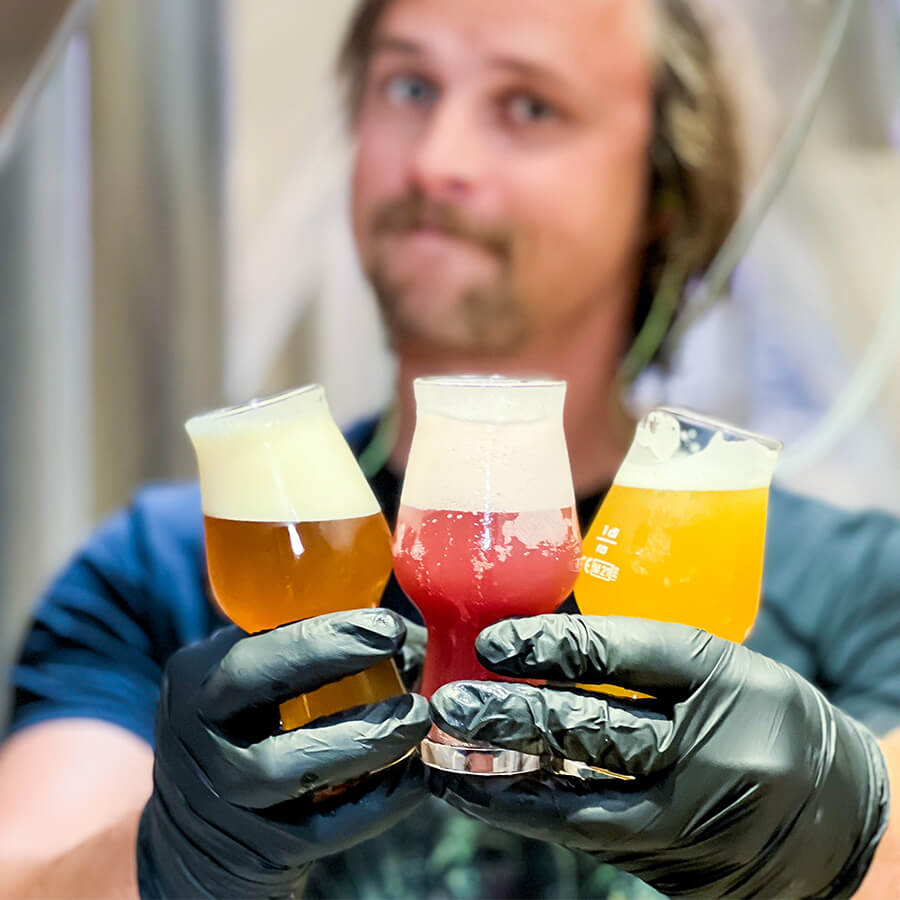 Your visit:
Blind beer tasting
If you're in a group of less than 10 people, wahey, you get to do a blind tasting! How does it work, you ask? Well, it's super easy. First, we tell you about 4 beers. Next, we get you to taste them. Once you've tasted them all paying the utmost attention, you try to put them back in order. If you get it right, you leave with your beer expert diploma. Not bad at all.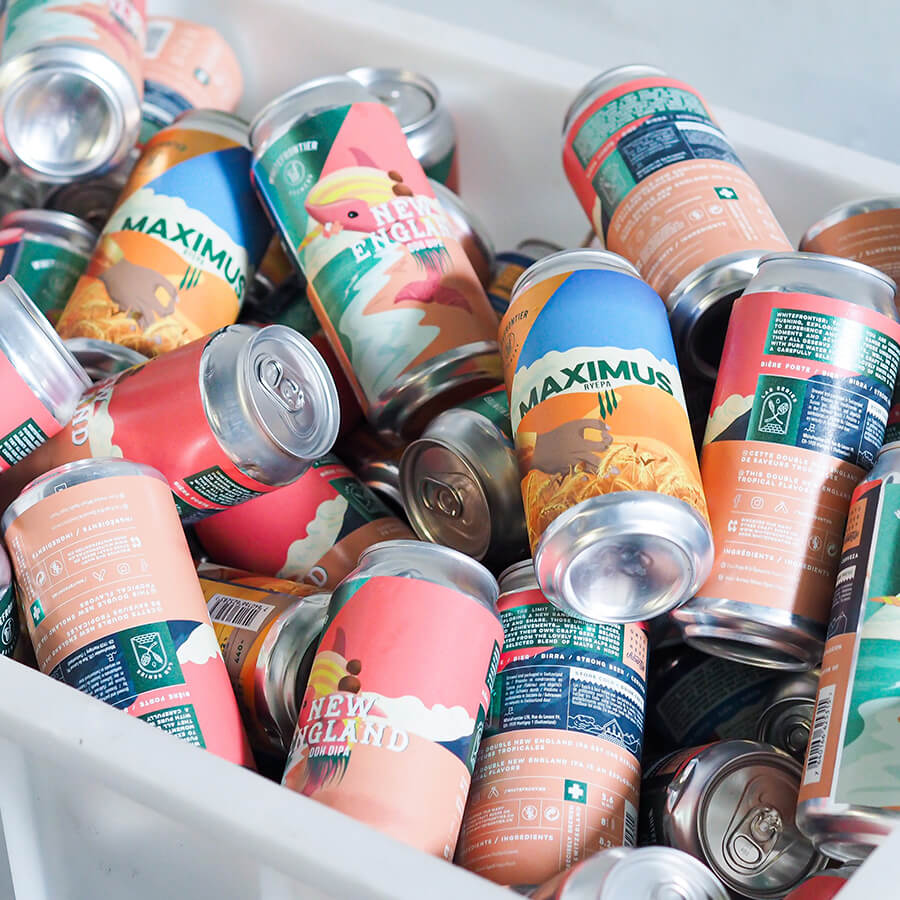 Your visit:
10% off in our shop
We've saved the best for last! Here it is, the showstopper... Wait for it... We give you 10% off all our beers to take away. Just our way of thanking you for visiting us!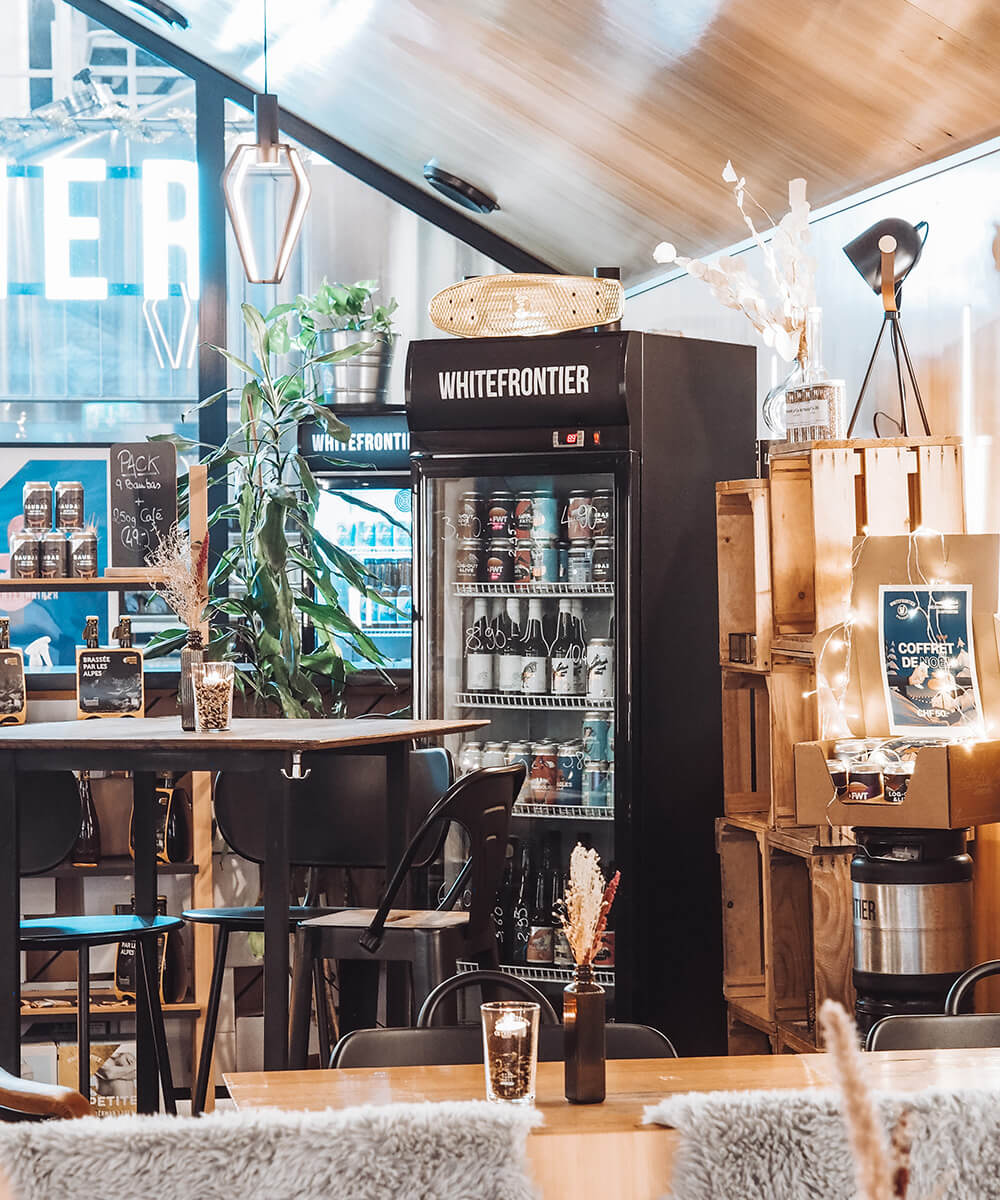 OUR SHOP
You can of course buy our beers on site. Did you try a beer and feel your heart go BOOM? Or do you feel like trying something new? You can find it all in our shop. And on top of beer, we've got clothes, unique accessories, fun items and gadgets, books with words in them and plenty of gifts. And if you have to head off quickly, no stress. We sell almost everything online right here.

ONLINE SHOP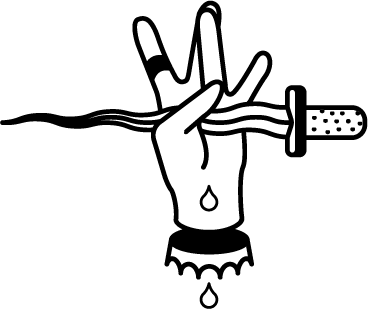 OUR EVENTS
Find, below, all the upcoming events.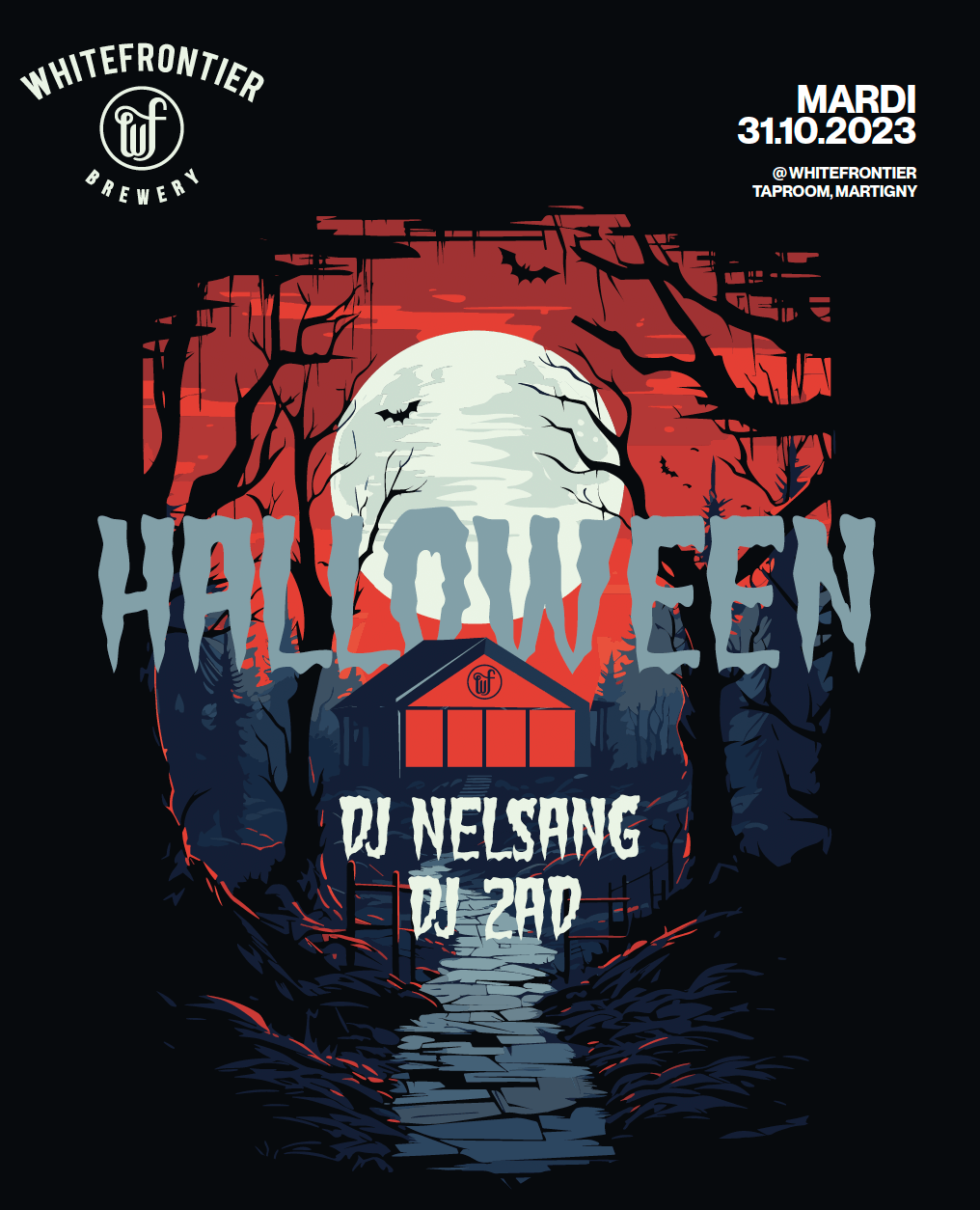 HALLOWEEN
Come and celebrate Halloween at the brewery on October 31, 2023. The 5 best costumes will be rewarded with a small surprise. Dj Nelsang and Dj 2ad. 6pm-2am.
November 4, 2023: Launch party for 6 new beers

Dès 17h.

Brewery tour at 5pm. Tasting bar from 5.30pm to 7pm. Dj Madrigal from 6pm to 10pm.

Cadeaux, expo, surprises...
Wednesday December 13: Concert by Manu Lanvin
Friday, December 15: Whitefrontier Christmas

Come celebrate Christmas at Whitefrontier.

On the program: dj Melting Souls, magic show, ugly sweater contest, Whitefrontier beer tastings, free tombola to win prizes.

VISIT US
Adresse : Rue du Levant 99, 1920 Martigny
We are located only 1min from the A9, exit Martigny Verbier St-Bernard, about 50 minutes from Lausanne or Fribourg, 1h30 from Geneva and Bern, 2h30 from Lucerne, Basel or Zurich. If you are going skiing or enjoying the Valais mountains, our brewery is an ideal stop on the way to your vacation. The WhiteFrontier brewery is an almost obligatory stop for all those who go skiing in Verbier, Crans-Montana, Gstadd, Zermatt, Grimentz or many other resorts. 
CALL US
WRITE TO US
FAQ
We know it all too well: whenever there's an outing in the works, there are always 1,000 questions. That's why we've prepared a little FAQ section... ask away!
We're easy to find: you can click the address just below, or copy and paste it into the GPS of your choice:

Rue du Levant 99, 1920 Martigny, Valais, Swiss.

We're just a minute off the A9 taking the Martigny Verbier St-Bernard exit, about 50 minutes from Lausanne or Fribourg, 1.5 hours from Geneva and Bern, and 2.5 hours from Lucerne, Basel and Zurich. If you're skiing or spending time in the Valais mountains, our brewery is an ideal stop as part of your route.
Are you open every day?

Yep, no idling here.

Our opening hours are:
• Monday to Wednesday: 3-10pm
• Thursday: 3-10pm
• Friday to Saturday: 11am-11pm
• Sunday : 11am-8pm

And on public holidays, too?
We're open for almost all of them, yes, unless you hear otherwise on our social media.

Christmas, however, is sacred, so we're closed on 24 and 25 December.
Absolutely you can! Showing you around our brewery is one of our favourite things to do—who doesn't like sharing their passion? So yes, we arrange visits regularly.
Find out more here

Do you have to book?
It's hard to plan everything, right? We agree—that's why we don't take reservations and make space for spontaneity. You come along, we welcome you through our doors, you have a good time. That being said, for visits, you will need to book ahead, yes.
I get really hungry... Do you always have food on offer?

Yes, we do cook from Tuesday to Saturday. See the map above.
Of course. We love parents, so we think of the kids, too ☺. Bring them along, but keep an eye... We know those little monsters like doing silly things—it's their way of exploring the world, after all.

We serve beer starting from 16 years old, and an identity card may be requested.
Are you kidding? We make beer labels with dogs on them, and that means exactly what it suggests.

Dogs are absolutely welcome in the public areas of our brewery (but unfortunately not for tours as it's forbidden by law)

Just one rule: they should be well socialised and no bother to neighbours.

But we could also apply that rule to humans ☺.
Is anyone a fan of barking? How about drunk guys shouting? Yeah, us neither!
Can I hire your space for a private event?

Everything is up for negotiation, my friend. Write to us at event@whitefrontier.ch
Got anything else worth seeing?

Yep, we aim to please, so we often run events and activities. You can see the full calendar here.
Do you also sell kegs to take away?

Yes, but in this case, it's better to book. We also hire out our taps.

Our kegs have an S-type dispense head. Kegs hold 20 litres and should be returned (CHF 50)

We can also provide you with cups, if you like.
Do you offer home delivery?

Oh yes! But for now, we can only deliver up to a radius of 20km from our brewery. We work with the Martigny bike delivery service. To order, head here
Do you sell anything other than beer in your shop?

What do you take us for, animals? Of course we do! We sell wine, gin, soft drinks and tons of great products. And we don't just sell liquid—you can also buy gift boxes, glasses, cool items and gadgets, clothes, accessories and more. So now you have no choice but to come and see us!
Is the shop open at the same times as the bar?

Normally yes, but during special events, the shop might be closed some of the time.